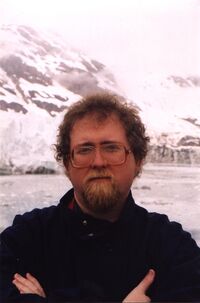 Aaron Allston is the author of several novelized sequels to Terminator 3: Rise of the Machines.
Background
Aaron was born in 1960 in Corsicana, TX. Related to too many "strange people" ever to lead a normal life, he began writing at the age of 11; and perpetrated his first short story at 14 and his first novel at 16. ("Mercifully, both are hidden away from the eyes of men.") He studied journalism, among other things, in high school in Denton, TX, graduating in 1979.
He then moved to the state's capital, Austin, intending to continue journalism studies at the University of Texas while writing on the side, but neither a semester at the university nor a year with the Austin American-Statesman proved agreeable.
Career
After leaving the newspaper in 1980, Aaron was hired by game designer and publisher Steve Jackson as circulation manager for Space Gamer magazine; over the next two years, he became assistant editor and then editor of the magazine. He also began designing game supplements on a freelance basis, for Steve Jackson Games and then for Hero Games. In 1983, shortly after Space Gamer won the H.G. Wells Award for Best Role-Playing Magazine of 1982, Aaron went freelance full-time as a game designer, doing most of his work for Champions publisher Hero Games and Dungeons & Dragons publisher TSR.
His first novel, Web of Danger, game-based fiction supporting the Top Secret/S.I. game line, was released by TSR in 1988. In 1993, Baen Books published Aaron's second novel, the original fantasy Galatea in 2-D. Subsequently, he gradually moved from game design to full-time fiction writing.
He currently lives in the Austin area with four housemates, four cats, and a dog. He is unmarried. Aaron enjoys reading, movies, role-playing games, and "avoiding the rays of the accursed sun".
Terminator Novels
External links
Ad blocker interference detected!
Wikia is a free-to-use site that makes money from advertising. We have a modified experience for viewers using ad blockers

Wikia is not accessible if you've made further modifications. Remove the custom ad blocker rule(s) and the page will load as expected.