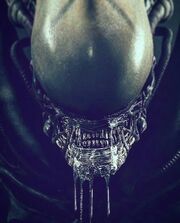 The Xenomorph, or the "Alien", is a parasitic, predatory alien species. It is a common prey of the Predator and frequently encountered by Ellen Ripley.
Aliens vs. Predator vs. The Terminator comics
This character article is a stub, missing information on the fictional appearances. You can help the Terminator Wiki by expanding it.
Appearances
Notes
The Aliens are afraid of fire.
The Aliens have corrosive blood.
Behind the Scenes
The Egg, Facehugger, Chestbuster, and the Adult Xenomorph were designed by H.R. Giger.