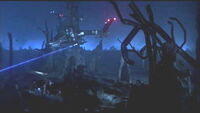 California is a state in the western United States, and the home to the city of Los Angeles. It is the setting of the majority of the events in the Terminator franchise.
Notes
California borders Oregon to the north, Nevada to the east, and Baja California to the south.
Besides Los Angeles, it is also the home of the cities of San Diego, San Francisco, and San Jose.
At over 36 million residents, California is also the most populous state in the United States.
Ad blocker interference detected!
Wikia is a free-to-use site that makes money from advertising. We have a modified experience for viewers using ad blockers

Wikia is not accessible if you've made further modifications. Remove the custom ad blocker rule(s) and the page will load as expected.