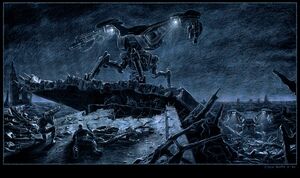 The "Centurion", also known as HK-Spider, is a quadruped walker-style ground Non-Humanoid Hunter Killer unit developed by Skynet.
History
Terminator: Dawn of Fate
Utilizing legs for added locomotion, the Spider will commonly make swiping hits at Resistance Soldiers or Refugees to disable them for capture or termination. They have the ability to fire plasma bursts and also feature a shield generator for added protection.
Kyle Reese faced off against HK-Spiders while on a mission to destroy Skynet's central processors in Cheyenne Mountain.
Terminator: Infinity
During a raid on one of Skynet's base, John Connor found the factory of Centurion and piloted one of them to rescue Tara Holden and her unit. Terminator Infinity #05
Notes
Appearances
Comics
Video games
Novels
Gallery
External Links
Ad blocker interference detected!
Wikia is a free-to-use site that makes money from advertising. We have a modified experience for viewers using ad blockers

Wikia is not accessible if you've made further modifications. Remove the custom ad blocker rule(s) and the page will load as expected.