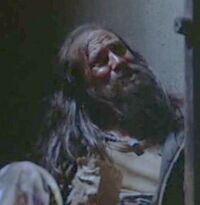 The derelict in alley is the first person encountered by Kyle Reese upon his arrival to 1984. Kyle is seen donning the bum's pants by police officers and then "rabbits" deeper into the alley.
He is present in both the original timeline and the Terminator Genisys timeline.
Behind the Scenes
Quotes
Alley bum: (to Kyle) Hey buddy, did you just see a real bright light?
Alley bum: (to cops) That son of a bitch took my pants!