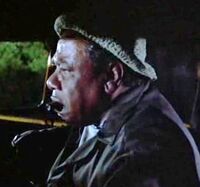 The "Garbage man" was emptying a dumpster when the Terminator appeared near an alley in 1984. After witnessing the cyborg's appearance, he exited his garbage truck and disappeared, never to be seen again.
He was present in both the original timeline and the Terminator Genisys timeline.
Notes
Quotes
"What the hell?
"Goddamn son of a bitch."
Ad blocker interference detected!
Wikia is a free-to-use site that makes money from advertising. We have a modified experience for viewers using ad blockers

Wikia is not accessible if you've made further modifications. Remove the custom ad blocker rule(s) and the page will load as expected.