Harvester
Talk

0
1,071pages on
this wiki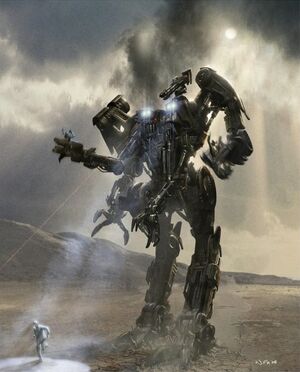 The Harvester is a large bipedal Non-Humanoid Hunter Killer units produced by Skynet sometime before 2018. Its primary function is to capture the humans to do lab testing on their stem cells. This research on humans led to the creation of the Series 800 Terminator.
When a Harvester has captured any human test subject, it calls a Transport, which arrives and lands somewhere near the Harvester. After a Harvester has collected the humans, it drops the humans into the large container on the Transport.
Specification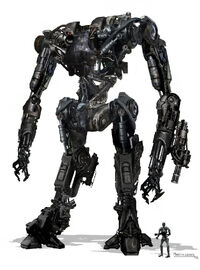 There is a type of shoulder electrical or laser weapon, which causes a fiery explosion upon contact with the target, mounted on the Harvester's shoulder. A Harvester can withstand large scale gasoline fueled explosions and fires.
A Harvester is able to store Moto-Terminators in its legs. It will release Moto-Terminators to catch escaped humans as the Harvester is too large and lumbering to effectively pursue them. When the Harvester has gathered a full load of humans for the Transport, it compacts itself into a large compartment on the Transport to return to its home base.
Terminator Salvation film
When in the gasoline station, the Harvester suddenly shows up and captures Virginia along with other Resistance member before firing at those who try to escape. Marcus Wright, Kyle Reese, and Star manage to escape and use the tank lorry to blast the Harvester.
However, the Harvester was unharmed and fired a blast at them but missed. It then released two Moto-Terminators to chase them.
After a while, the Harvester boards on a Transport and capture Kyle and Star, who was falling from a bridge before went into the standby mode. Later, it reactivates to stop Marcus from rescuing Kyle and Star. Terminator Salvation
Notes
There is black smoke coming out of the Harvesters' back. It is unknown whether the Harvester has some sort of a diesel engine or not.
The Harvester's primary function to capture human is similar to the Flencer's.
Merchandise
Playmates
Appearances
Terminator Salvation franchise
Gallery
Concept art
Terminator Salvation film
Terminator Salvation game
External links