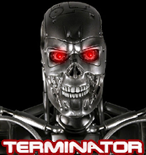 Hercules was the pet cat of Betsy until the latter's death on July 24, 2004.
Hercules was a patient at the Emery Animal Hospital, and was brought in by her owner, Betsy, at 5 AM when he started coughing without stopping. Katherine Brewster diagnosed Hercules as having a hairball, but his owner, Betsy, believed otherwise and demanded to see a doctor. ( Terminator 3: Rise of the Machines)
Notes
It is unknown what happened to Hercules after Betsy was killed by a T-X at the Hospital, but Hercules was most likely killed the following afternoon when Skynet destroyed cities around the world using nuclear missiles.
Appearances