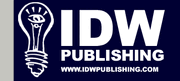 IDW Publishing is an American comic book company. The company was founded in 1999.
The company specialises in licensed properties, acquiring the rights to 24, Angel, CSI, Transformers, Star Trek, Doctor Who, G.I. Joe and most notably Terminator Salvation: Sand in the Gears. The list of published titles is extensive as can be seen here at the Official websites published titles page.
External Link
Ad blocker interference detected!
Wikia is a free-to-use site that makes money from advertising. We have a modified experience for viewers using ad blockers

Wikia is not accessible if you've made further modifications. Remove the custom ad blocker rule(s) and the page will load as expected.