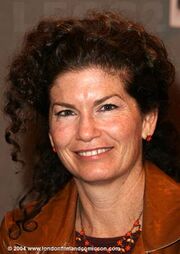 Jenette Elise Goldstein (born February 4, 1960 in Los Angeles, CA) is an American actress. She is also known for playing PVT Vasquez in Aliens as well as minor roles in various other films. Though Jenette is actually of Jewish descent, she often portrays Latina characters, as she has Hispanic features and speaks fluent Spanish.
Filmography in Terminator franchise
Trivia
External links
Ad blocker interference detected!
Wikia is a free-to-use site that makes money from advertising. We have a modified experience for viewers using ad blockers

Wikia is not accessible if you've made further modifications. Remove the custom ad blocker rule(s) and the page will load as expected.