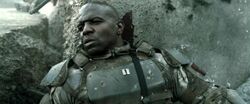 Jericho was a Resistance soldier in the Future War. He is Lieutenant Barnes' brother.
Terminator Salvation
Jericho was killed during the raid on the Skynet VLA.
Appearances
Behind the Scenes
Jericho was played by actor Terry Crews. His scenes were cut from the film; however, Jericho's dead body can briefly be seen as John Connor climbs out of the Skynet VLA.