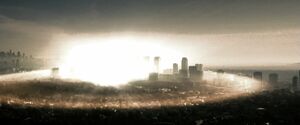 Judgment Day, also known as J-Day, refers to the day that the artificial intelligence Skynet becomes self-aware and starts a nuclear strike on America, Russia, and other regions, killing three billion people.
Sarah Connor first learned about Judgment Day in 1984 from Kyle Reese, a soldier sent from the future to protect her from an assassination by a Terminator. The Terminator
Date of Judgment Day
Due to the impact of time travel on the Terminator timelines, the date of Judgment Day has been altered several times.
1997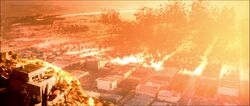 The first specific date of Judgment Day as described by both Sarah Connor and the T-800 occurs on August 29, 1997. Skynet becomes self-aware at 02:14 am Eastern Time after its activation on August 4, 1997 and launches nuclear missiles at Russia to incite a counterattack against the humans who, in a panic, tried to disconnect it. Terminator 2: Judgment Day
Since Sarah and the Terminator both share the same information (which it would in any case if both it and Kyle were sent back at the same time to different destinations. T2: The Future War), this date has not changed as a result of Cyberdyne managing to reconstruct and create the Terminators from the remaining parts of the T-800 sent to 1984 from the future. At this stage, quality may have improved, but the timing has not yet changed.
2003
In Russia, a routine day at sea turns into a nightmare when it seems the US has launched a massive nuclear attack on the rest of the world. Terminator Salvation: Dark Sky
2004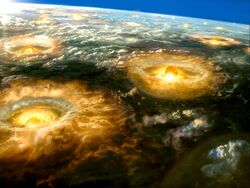 After Sarah Сonnor, her son John and the T-800 destroy Cyberdyne headquarters and all backups of the research Terminator 2: Judgment Day, the date for Judgment Day is moved to July 25, 2004 6:18 pm Eastern Time. Terminator 3: Rise of the Machines.
This event is not prevented, and occurs as predicted with the T-850 indicating "Judgment Day is inevitable". Terminator 3: Rise of the Machines
2005
After John Connor and Wendy Dorset inadvertently participate in the creation of Skynet while attempting to stop Clea Bennet in 2002 T2: Rising Storm, the date for Judgment Day is altered into a progressively developing scenario of machine based homicidal mania that takes years to develop until the full fledged nuclear strikes of Judgment Day now occurs sometime in 2005. T2: The Future War
This sequence of events is directly attributable to the temporal intervention by Skynet and the deployment of the I-950 infiltrator Serena Burns to ensure Skynet's creation.
2011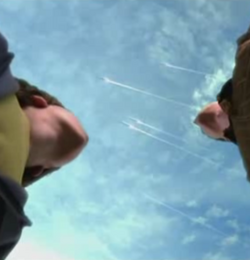 Cameron tells Sarah in 2007 that Judgment Day is now set to occur on April 21, 2011. Skynet is destined to go online a few days earlier, on April 19, 2011.[Episode needed]
Note: Both the Resistance and Skynet are actively seeking to interfere with the timeline and are having unforeseen effects. Due to ongoing temporal alterations, these events are probably still being altered.
Cities destroyed
This is a list of cities destroyed on Judgment Day.[citation needed]
Aberdeen
Abuja
Adelaide
Agana
Albany
Albuquerque
Amarillo
Amman
Amsterdam
Anchorage
Ankara
Athens
Atlanta
Auckland
Aurora
Austin
Baghdad
Bakersfield
Bali
Baltimore
Bangor
Bangkok
Barcelona
Beijing
Belfast
Berlin
Birmingham
Billings
Boise
Boston
Brisbane
Bristol
Brussels
Budapest
Buenos Aires
Buffalo
Cabo San Lucas
Cairo
Calgary
Cancun
Canberra
Cantaina
Capetown
Caracas
Cardiff
Carson City
Casablanca
Casper
Champaign
Charlotte
Cheyenne
Chicago
Cincinnati
Cleveland
Colorado Springs
Columbus
Cork
Corpus Christi
Dallas
Darwin
Dayton
Denver
Des Moines
Doha
Duluth
Delhi
Detriot
Durango
Dubai
Dublin
Dundee
Edinburgh
Edmonton
Elko
El Paso
Eugene
Fayetteville
Florence
Frankfurt
Fresno
Fort Lauderdale
Fort Worth
Galway
Gold Coast
Gotland
Guadalajara
Guam
Guatemala
Haiti
Hartford
Havana
Hobart
Hong Kong
Honolulu
Houston
Indianapolis
Indian Springs
Indio
Istanbul
Jacksonville
Jakarta
Johannesburg
Kahului
Kano
Kansas City
Karaci
Konya
Kiev
Kingston
Knoxville
Kyoto
Lagos
Las Vegas
Leeds
Lexington
Lima
Limerick
Lincoln
Lisboa (Lisbon, Portugal)
Liverpool
Lyon
Louisville
Madison
Madrid
Managua
Manchester
Manila
Marseille
Melbourne
Mendoza
Memphis
Mexico City
Mobile
Modesto
Monterrey
Montrose
Morelia
Miami
Milwaukee
Minneapolis
Minot
Montreal
Moscow
Munich
Mumbai
Nadi
Nagoya
Nairobi
Nashville
Nassau
Newark
Newcastle Upon Tyne
New Delhi
New York
New Orleans
Norfolk
North Las Vegas
Novosibirsk
Oakland
Oklahoma City
Omaha
Ontario
Orlando
Osaka
Oslo
Ottawa
Oxford
Palermo
Palm Springs
Panama City
Papeete
Paris
Perth
Pittsburgh
Portland
Providence
Philadelphia
Phoenix
Puerto Vallarta
Raleigh
Reno
Reykjavik
Rio De Janiero
Riverside
Riyadh
Rome
Saigon
Sacramento
Salem
Salt Lake City
San Angelo
San Antonio
San Diego
San Juan
San Jose
San Jose del Cabo
San Paulo
San Pedro Sula
San Salvador
Santa Ana
Santa Barbara
Santiago
Santo Domingo
Sapporo
Scranton
Seattle
Seoul
Shanghai
Singapore
Sioux Falls
South Bend
South Lake Tahoe
Spokane
Springfield
St. Louis
St. Petersberg, Russia
Stockholm
Stockton
Sunderland
Sydney
Taipei
Tehran
Tel Aviv
Tijuana
Tokyo
Toledo
Topeka
Toronto
Toulouse
Tucson
Tulsa
Vancouver
Vienna
Warsaw
Washington DC
Wellington
Winnipeg
Wichita
Wodonga
Yokohama
York
Zacatecas
Zurich
Quotes