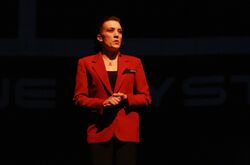 Kimberley Duncan (born in 1977) was the Director of Community Relations and Media Control for Cyberdyne Systems. While giving an introduction to the guests, she was interrupted by a message by John Connor and Sarah Connor. She turned the message off and proceeded with the main presentation. Then the T-1000 arrived and killed her.
Behind the Scenes
Duncan is portrayed by various Universal Studios female park employees, so her physical appearance and voice changes, especially the language.
Whoever portrays Kimberley dons a pink dress shirt and nametag.
Appearances