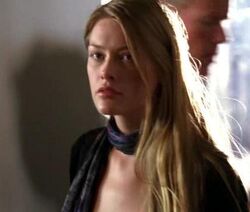 Kristina Louise Apgar born 10 June 1985, in Morristown, New Jersey. Kristina appears in Terminator: The Sarah Connor Chronicles as Cheri Westin, John Connor's mysterious lab partner. According to series producer Josh Friedman, Kristina will resume her role of Cheri Westin for season 2. [citation needed] but it never came about and she did not. The reason being, she was cast in an enjoyable and watchable TV series called Privileged, later that same year.
Kristina has appeared in notable TV productions such as As the World Turns, Rescue Me, and Law and Order. She put in a very impressive performance as Young woman with multiple personality disorder in CSI Miami 2011.
Besides her television work, Kristina has done a short movie called Barry's Last Chance.
Appearance
Terminator: The Sarah Connor Chronicles
Notes
Of Norwegian descent, Kristina graduated from Madison High School. [citation needed]
She has also studied ballet with the New Jersey Ballet company. [citation needed]
Ad blocker interference detected!
Wikia is a free-to-use site that makes money from advertising. We have a modified experience for viewers using ad blockers

Wikia is not accessible if you've made further modifications. Remove the custom ad blocker rule(s) and the page will load as expected.