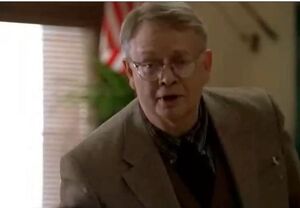 Mr. Ferguson was a chemistry teacher at Crest View High School in Red Valley, New Mexico in the fall of 1999.
Classroom expectations
Students were required to read one chapter per week with a quiz each Friday. He allowed one makeup test with a note from a parent. Mr. Ferguson's tardy policy was strict; any more than one tardy without a parental excuse resulted in one hour of after school detention.
Students
At least one of his classroom sessions for chemistry contained 22 individual studients, including John Reese and Cameron Phillips. Other students included Mary Booai, Franklin Lane, Andrea Walker. Cynthia Nolan, Donald Chase, Marcia Woske and Wayne Parker
Behind the Scenes
Mr. Ferguson was portrayed by Gary Houston.
A deleted scene from Season 1 shows that Cromartie killed Mr. Ferguson.
Mr. Ferguson was later referenced in season two, with an episode titled "Mr. Ferguson is Ill Today"
Appearances
Ad blocker interference detected!
Wikia is a free-to-use site that makes money from advertising. We have a modified experience for viewers using ad blockers

Wikia is not accessible if you've made further modifications. Remove the custom ad blocker rule(s) and the page will load as expected.