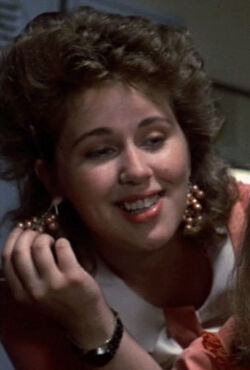 Nancy
was a co worker of
Sarah Connor
's at
Big Jeff's
restaurant. She arrived late the day of May 12,
1984
, as did Sarah. Nancy was the first to alert Sarah of the killing of
another Sarah Connor
.
Behind the Scenes
Nancy was portrayed by Shawn Schepps.
Notes
According to the novelization T2: Infiltrator, "Look at it this way in a hundred years who's gonna care?" was her personal motto.
Quotes
(After witnessing kid putting ice cream in Sarah's apron) "Look at it this way; in a hundred years, who's gonna care?"
(After showing Sarah the newscast detailing the murder of 'Sarah Connor, 35, mother of two') "You're dead, honey!"
Appearances
Ad blocker interference detected!
Wikia is a free-to-use site that makes money from advertising. We have a modified experience for viewers using ad blockers

Wikia is not accessible if you've made further modifications. Remove the custom ad blocker rule(s) and the page will load as expected.