Robocop versus the Terminator is a multi-platform, side-scrolling action game developed by Virgin Games and Interplay Entertainment in the mid-nineties.
The player assumes control of RoboCop, a cyborg police officer from the 1987 film of the same name, and battles Terminators in an effort to stop Skynet.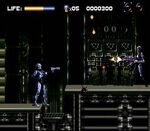 Versions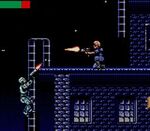 The game was produced under the following platforms, each with their own unique graphics and settings.
Game Boy
Sega Genesis
Sega Game Gear
Sega Master System
SNES
A version was also planned for the NES system, but was later canceled.
Cast and Crew
Timothy Williams (lead designer)
Noah Tool (assistant designer)
Bob Stevenson (art director)
John Botti (programmer)
Robert John Burke (voice talent)
Jose Villeta (voice Talent)
External links
Ad blocker interference detected!
Wikia is a free-to-use site that makes money from advertising. We have a modified experience for viewers using ad blockers

Wikia is not accessible if you've made further modifications. Remove the custom ad blocker rule(s) and the page will load as expected.