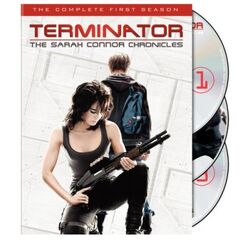 The Season 1 DVD for Season One Terminator: The Sarah Connor Chronicles was released on August 19, 2008 on DVD and Blu-ray.
DVD Features
The special features on this release include an all-encompassing look at the production process involved with every aspect of bringing Terminator: The Sarah Connor Chronicles to television:
Commentaries
Terminated Scenes (i.e. deleted scenes)
Gag Reel
Cast audition tapes
Storyboard Animatic - featuring the storyboard sequence of the school session where Cromartie attacks and John Connor narrowly escapes.
Summer Glau Dance Rehearsal
An Extended Director's Cut of the episode, The Demon Hand.
Contents
Disc 1
Disc 2
"Dungeons & Dragons", Terminated Scene
Special Features: Cast Audition Tapes; School Attack Animatic; Summer Glau dance rehearsal
Disc 3