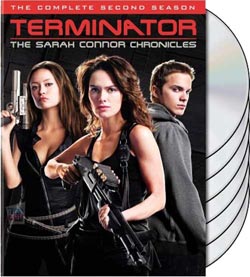 The Season 2 DVD for Season Two of Terminator: The Sarah Connor Chronicles was released on September 22, 2009 on DVD and Blu-Ray.
Publisher's Description
The time: today. The stakes: all our tomorrows. A nascent AI, assisted by droids, continues to edge toward world domination and the ruin of humankind. It accepts no limits. It fears no one. Except John Connor. The machines know John, now 16, is the future head of the resistance. They know he is growing in abilities. They must find and terminate him. But Sarah Connor is there, protecting and instructing her son as he becomes the man he's destined to be. The hunt is on in a season of powerful revelations, breathless pursuits and bravura effects. A mysterious 3-dot symbol (do UFOs provide a clue?), a girlfriend for John (is Cameron jealous?), ZeiraCorp (can it master the renegade software called Turk?) - Season 2's 6-disc action arsenal is locked, loaded, ready to amaze.
DVD Features
Contents
Disc 1
Disc 2
Disc 3
Disc 4
Disc 5
Disc 6
Ad blocker interference detected!
Wikia is a free-to-use site that makes money from advertising. We have a modified experience for viewers using ad blockers

Wikia is not accessible if you've made further modifications. Remove the custom ad blocker rule(s) and the page will load as expected.