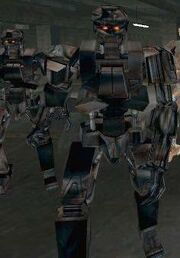 The T-500 Endo, is one of the early Humanoid Hunter Killer Unit series prior to the T-600 Terminator.
The unit featured an armored battle chassis that made it more durable than the units of the T-400. The unit also sported enhanced weapons which were synced with an acquisition AI program, making this series a dangerous threat on the battlefield.
The T-500 Combat units used to serve as Skynet's preferred soldier prior to the development of the T-600, the T-700, and the T-800 Terminators and Infiltrators.
Notes
Appearances
Novels
Video games
Gallery
External Links