Stanley Winston [1]was an American visual effects supervisor, make-up artist, and film director. He is best known for his work in the Terminator franchise, the Jurassic Park series, Aliens, the Predator series, and Edward Scissorhands. [2] [3] [4]He won a total of four Academy Awards for his work.
Expertise
Winston, a frequent collaborator with director James Cameron, owned more than one effects studio, including Stan Winston Digital and Digital Domain (with ex-ILM GM Scott Ross). The established areas of expertise for Winston were in makeup, puppets and practical effects, but he had recently expanded his studio to encompass digital effects as well.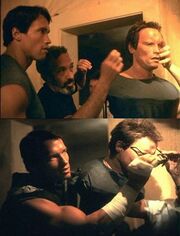 Stan has also worked with Midway Games, designing the horrifying creatures seen in the "survivor horror" video game The Suffering and it's sequel, The Suffering: Ties that Bind.
Death
Stan Winston passed away on June 15, 2008, in Malibu, California after suffering for seven years from multiple myeloma.[5]A spokeswoman reported that he "died peacefully at home surrounded by family."[6] Arnold Schwarzenegger made a public speech about his death, and Jon Favreau dedicated his Spike TV Scream Award to him upon receiving the award for Best Sci-Fi Movie for Iron Man. Winston was survived by his wife and two children, actor Matt Winston and Debbie Winston.
Smithsonian
Many of Stan Winston's puppets, including the full-body Aliens costumes, the original T-800 "eyeball surgery model", and the Predator suit are now displayed in the Smithsonian Institute's Film Museum.
Notes
Stan Winston is the only person to have worked on all four Terminator films.
Stan Winston made a final performance as a cameo in Terminator Salvation as a Resistance fighter fighting a hydrobot, one of the machines he designed.
References
Ad blocker interference detected!
Wikia is a free-to-use site that makes money from advertising. We have a modified experience for viewers using ad blockers

Wikia is not accessible if you've made further modifications. Remove the custom ad blocker rule(s) and the page will load as expected.