Summer Glau (born July 24, 1981) is an American actress, who plays Cameron and Allison Young in the television series Terminator: The Sarah Connor Chronicles.
Biography
Among her many works, Summer Glau's previous television roles include River Tam on the television series Firefly (2002-2003) and the follow-up movie Serenity, Crystal Burns on The Unit (2006–2007), and Tess Doerner on The 4400 (2005–2007). After much speculation following the cancellation of Terminator: The Sarah Connor Chronicles, Summer Glau was announced as a cast member for two episodes of the Fox television series Dollhouse, but stayed on as a major character till the end of the show(2010,) she played Bennett Halverson the chief programmer for the Washington, D.C. Dollhouse. Summer Glau also featured as Isabel Rochev in CW's Arrow second season, and as Orwell(a crime blogger) in the Cape(a superhero TV show). She is now working on a new show called Sequestered, being broadcast online via Cracked.com
Filmography in Terminator franchise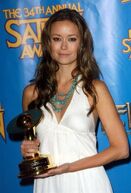 External links
Ad blocker interference detected!
Wikia is a free-to-use site that makes money from advertising. We have a modified experience for viewers using ad blockers

Wikia is not accessible if you've made further modifications. Remove the custom ad blocker rule(s) and the page will load as expected.