Ad blocker interference detected!
Wikia is a free-to-use site that makes money from advertising. We have a modified experience for viewers using ad blockers

Wikia is not accessible if you've made further modifications. Remove the custom ad blocker rule(s) and the page will load as expected.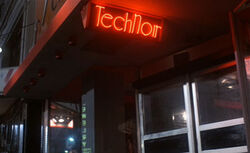 Tech Noir was a club located on Pico Boulevard in Los Angeles, next to the Super C Ranch Market. On the night of May 12, 1984, the club was the site of a shooting as a Terminator from the future attacked, attempting to kill Sarah Connor. He almost succeeded, until Kyle Reese saved her life.
The cover charge at Tech Noir in 1984 was $4.50. The phone number of the pay phone at the club was 555-9175.
Behind the Scenes
In the script, the club is named "Stoker's."
During production, the film crew had to turn away would-be customers who thought the Tech Noir was a real club that had just opened up.
"Tech Noir" refers to a film genre combining the styles of "Film Noir" and "Sci-Fi". This includes films such as The Terminator and Blade Runner. James Cameron coined the term, then also gave the name to the nightclub
Appearances