Terminator: The Sarah Connor Chronicles Soundtrack
Talk

0
Share
Ad blocker interference detected!
Wikia is a free-to-use site that makes money from advertising. We have a modified experience for viewers using ad blockers

Wikia is not accessible if you've made further modifications. Remove the custom ad blocker rule(s) and the page will load as expected.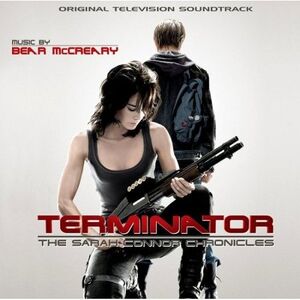 The soundtrack for Terminator: The Sarah Connor Chronicles was released by La-La Land Records on December 23, 2008. It continues music from the show, written by Beary McCreary.
Tracklist
Samson And Delilah (from 'Episode 201: Samson & Delilah') Performed by Shirley Manson
Terminator: The Sarah Connor Chronicles' Opening Title
Sarah Connor's Theme (from 'Episode 101: Pilot')
Cromartie in the Hospital (from 'Episode 103: The Turk')
Andy Goode's Turk (from 'Episode 105: Queen's Gambit')
Central America (from 'Episode 105: Queen's Gambit')
John And Riley (from 'Episode 202: Automatic for the People')
Derek Reese (from 'Episode 105: Queen's Gambit' and 'Episode 107: The Demon Hand')
Ain't We Famous (from 'Episode 202: Automatic for the People') Performed by BrEndAn's Band
Motorcycle Robot Chase (from 'Episode 102: Gnothi Seauton') Featuring Captain Ahab
The Hand Of God (from 'Episode 107: The Demon Hand')
Prisoners Of War (from 'Episode 106: Dungeons & Dragons')
Miles Dyson's Grave (from 'Episode 103: The Turk')
Atomic Al's Merry Melody (from 'Episode 202: Automatic for the People')
The Reese Boys (from 'Episode 109: What He Beheld')
Removing Cameron's Chip (from 'Episode 108: Vick's Chip')
Ellison Spared (from 'Episode 109: What He Beheld')
I Love You (from 'Episode 201: Samson & Delilah')
Catherine Weaver (from 'Episode 201: Samson & Delilah')
Derek's Mission (from 'Episode 106: Dungeons & Dragons')
There's a Storm Coming (from 'Episode 106: Dungeons & Dragons')
Highway Battle (from 'Episode 105: Queen's Gambit')
Perfect Creatures (from 'Episode 107: The Demon Hand')
'Terminator: The Sarah Connor Chronicles' End Credits