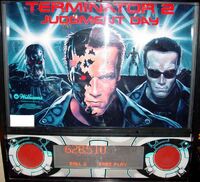 Terminator 2: Judgment Day (pinball) was a pinball game released in 1991 by Williams Electronics.
Notes
It was based on the 1980 pinball game, Firepower.
It was one of the first pinball games to feature a dot matrix display.
It was the first pinball game to feature a ball cannon and video mode.