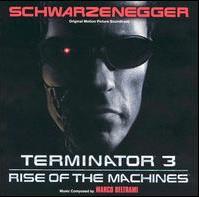 Composed by Marco Beltrami, Brad Fiedel, and Mia Julia Schettino. Performed by The Hollywood Studio Symphony, Buck Sanders, Mia Julia Schettino, Dillon Dixon.
Track Listing
A Day In The Life
Hooked On Multiphonics
Blonde Behind The Wheel
JC Theme
Starting T1
Hearse Rent A Car
TX's Hot Tail
Graveyard Shootout
More Deep Thoughts
Dual Terminator
Kicked In The Can
Magnetic Personality
Termina-Tricks
Flying Lessons
What Do You Want On Your Tombstone?
Terminator Tangle
Radio
T3
The Terminator Tangle
Open To Me
I Told You
Ad blocker interference detected!
Wikia is a free-to-use site that makes money from advertising. We have a modified experience for viewers using ad blockers

Wikia is not accessible if you've made further modifications. Remove the custom ad blocker rule(s) and the page will load as expected.