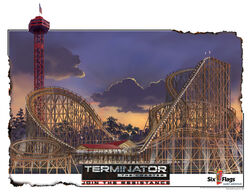 Terminator Salvation: The Ride is a wooden roller coaster located at Six Flags Magic Mountain in Valencia, California. It is located at Cyclone Bay, adjacent to Déjà Vu, where Psyclone last stood. It debuted to the media on May 21, 2009, and opened to the public on May 23, 2009. The ride's name was changed to Apocalypse since Six Flags no longer have the rights to Terminator Salvation in 2011.
Ride Elements
The ride has on-board audio via speakers in the back of each car, a first for any wooden roller coaster. The audio for the coaster is linked to an audio box at the back of the train. The ride also consists of two tunnels, a "fly-through station" where the trains pass through the top of the boarding area. Other elements include a detailed pre-show and pyrotechnic effects.
Notes
It was originally announced as "Terminator: The Coaster" on October 22, 2008, but was later changed to suit the film Terminator Salvation.[1]
References
External links
Ad blocker interference detected!
Wikia is a free-to-use site that makes money from advertising. We have a modified experience for viewers using ad blockers

Wikia is not accessible if you've made further modifications. Remove the custom ad blocker rule(s) and the page will load as expected.