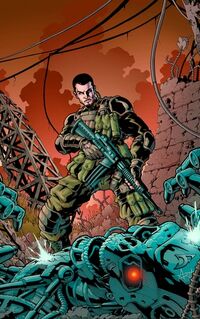 Terminator Salvation: Movie Preview is a comic book, also called Terminator Salvation Movie Adaption[1] published by IDW Publishing. The cover also has the line saying Official Movie Preview on the top. The comic is based on the motion picture written by John Brancato and Michael Ferris, adapted to comic book by Jeff Mariotte. Art and coverdesign by Don Figueroa. Coloring by Art Lyon.
Plot
The story retells the first part of Terminator Salvation. Starting from where Marcus Wright gets sentenced back in 2003 and ending right before meeting Kyle Reese and Star in Los Angeles in 2018.
Known differences from the movie adaptation
In general the dialog is slightly different, but nothing that changes anything.
Serena Kogan looks much healthier than she does in the film.
The T-1 seen attacking Resistance fighters in Skynet VLA was never in the PG-13 Theatrical Version of Terminator Salvation. However, that exact scene from the comic is in the R-Rated Director's Cut Version of Terminator Salvation
When facing Marcus Wright, Kyle Reese uses a handgun without bullets instead of a shotgun.
References
↑ Second page, in the company credit on Terminator Salvation: Movie Preview
Ad blocker interference detected!
Wikia is a free-to-use site that makes money from advertising. We have a modified experience for viewers using ad blockers

Wikia is not accessible if you've made further modifications. Remove the custom ad blocker rule(s) and the page will load as expected.