Ad blocker interference detected!
Wikia is a free-to-use site that makes money from advertising. We have a modified experience for viewers using ad blockers

Wikia is not accessible if you've made further modifications. Remove the custom ad blocker rule(s) and the page will load as expected.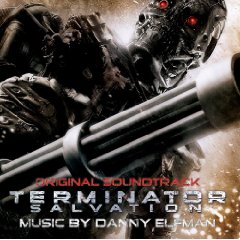 Terminator Salvation Soundtrack contains the score to the film Terminator Salvation, composed by Danny Elfman.
Track Listing
Terminator Salvation Original Soundtrack
No.
Title
Length
1.
"Opening"  
6:01
2.
"All is Lost"  
2:45
3.
"Broadcast"  
3:19
4.
"The Harvester Returns"  
2:45
5.
"Fireside"  
1:31
6.
"No Plan"  
1:43
7.
"Reveal/The Escape"  
7:44
8.
"Hydrobot Attack"  
1:49
9.
"Farewell"  
1:40
10.
"Marcus Enters Skynet"  
3:23
11.
"A Solution"  
1:44
12.
"Serena"  
2:28
13.
"Final Confrontation"  
4:14
14.
"Salvation"  
3:07
15.
"Rooster - Alice in Chains"  
6:14

Total length:

50:27
Notes
The soundtrack does not include the entire score to the film. Certain cues, such as the film version of the main titles, and almost all of the cues played when the T-800 attacks John Connor, are absent. Also absent is the Terminator Theme used in the main titles, during the T-800's introduction and in the finale.
Cue list
1M1 Marcus' Death/Main Title
1M2 Connor Arrival
1M3 In The Hole pt 1
1M4 In The Hole pt 2
1M5 In The Hole pt 3
1M6 Everybody's Dead
1M7 All Is Lost pt 1
1M8 All Is Lost pt 2
1M9 Marcus Walks
1M10 Jumper
1M11 A Solution
2M1 Connor Comes Home
2M2 Reset the Future
2M3 Come With Me
2M4 What Happened Here?
2M5 Connor the Hero
2M6 Connor Broadcast
2M7 Marcus' Dream
2M8 [Title Unknown]
2M9 Aerostat
2M10 Mini Mart
2M11 Harvester
3M1 The Harvester Returns
3M2 Canyon Dogfight
3M3 Blair? Transport
3M4 Hot Rain
3M5pt1 Rednecks pt1
3M5pt2 Rednecks pt2
3M6 Signal Success
3M7 Fireside
3M8 No Plan
4M1 Mine Field
4M2 Flashback
4M3 The Reveal
4M3B Hallway talk
4M4 The Shiv
4M5 Mom's Voice
4M6 The Escape
4M7 Hydrobot Attack
4M8 Look At Me
4M9 You're Out
4M10 Connor Speech
5M1 Weepy Donuts
5M2 [Title Unknown]
5M3 Marcus Emters Skynet pt1
5M4 Marcus Enters Skynet pt2
5M5A Serena (parts 1, 2 and 3)
5M5B Marcus Decides (parts 1, 2 and 3)
5M6 Father Meets Son
5M7 Fuel Cells
5M8 Final Confrontation pt1
6M1 Final Confrontation pt2
6M2 Final Confrontation pt3
6M3 Idea
6M4 Bad News
6M5 Salvation
6M6 Finale - End Credits