edit
Welcome
Terminator Wiki is a collaborative encyclopedia for everything related to the Terminator franchise of movies, TV series, novels, comics, video games, etc. The wiki format allows anyone to create or edit any article, so we can all work together to create a comprehensive database. Check out the help pages to get started!

Featured Article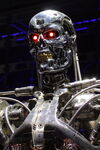 The Series 800 Terminator is a type of Terminator mass produced by Skynet. Individual Terminators within the series are often referred to as T-800s.
The T-800 was Skynet's first cybernetic organism, with living tissue over a hyperalloy endoskeleton. This made it Skynet's first successful Infiltrator unit, capable of infiltrating the Resistance.
The Series 800 Terminator was the first in a line of Series 8xx Terminators in various timelines, including the Series 850 and the Series 888 Terminators.

more...

Latest News
On August 14, 2012, Terminator: The Sarah Connor Chronicles began re-airing in the United Kingdom on the 5* channel... Read more...
San Diego Comic-Con 2012 Exclusive Interview: Gale Anne Hurd Discusses The Walking Dead Season Three, Reflects on The Terminator Franchise and More!
With more than 30 years in the filmmaking world behind her, writer and producer Gale Anne Hurd has been one of the creative forces behind some of the genre world's most beloved projects.
Hurd quickly rose to fame in Hollywood after penning and producing the 1984 sci-fi/action classic The Terminator; soon after, she produced several more projects alongside James Cameron including Aliens, The Abyss, and Terminator 2: Judgment Day as well as countless projects like Bad Dreams, Alien Nation, Tremors, The Relic, Dante's Peak, Armageddon and the underrated cult comedy Dick.
Hurd's days now are consumed by zombies as she is currently one of the executive producers on AMC's wildly successful series "The Walking Dead." During the recent 2012 San Diego Comic-Con convention, Dread Central had the opportunity to sit down for an exclusive chat with Hurd. During our interview we of course spoke to Hurd in-depth about "The Walking Dead": what fans can expect going into Season Three, more on the new and returning characters that fans of the comic series should definitely look forward to and the lowdown on the animatronic zombies that KNB will be using during next season.
Hurd also reflected on the film that put her on the map -The Terminator- and gave us her thoughts on a potential Terminator 5 if indeed the project ever does move forward with a new director at the helm (Justin Lin exited the project to focus on the upcoming Fast & Furious sequels)... Read more...
James Cameron Admits to Advising Arnold Schwarzenegger on New Terminator Movie
A proposed Terminator 5 has been in development since Terminator Salvation was released in 2009, but has had to suffer through a variety of roadblocks, including bankruptcy by rights-holder Halcyon, then being purchased by hedge fund Pacificor. It looked like the franchise was back on track last year, when Megan Ellison's Annapurna Pictures purchased the Terminator rights with Arnold Schwarzenegger and director Justin Lin (Fast Five) attached for a fifth installment.
Lin's involvement became questionable last September when he reportedly couldn't make Ellison's aggressive production schedule due to his commitment to Fast Six. Seems that was also around the time that James Cameron, director of the first two Terminator movies, started secretly advising Schwarzenegger on another Terminator movie. At least, that's what Cameron admitted in a recent interview with MTV... Read more...

Disclaimer
Legal
This fansite is not affiliated with Megan Ellison or Annapurna Pictures. All trademarks and copyrights belong to their respective owners, and are used here under the terms of Fair Use as defined in United States Copyright Doctrine. Terminator is a registered trademark of StudioCanal Image S.A.

Advertising
Advertising on Wikia is sold by Wikia Inc., and is not an endorsement of the products by Megan Ellison, Annapurna Pictures, the Terminator Wiki, or its volunteers. To report an inappropriate advertisement, please contact Wikia Inc. directly using the contact form.
---
Are you lost? Then view the Category Tree to see how all pages are organized.
---
Terminator Wiki in other languages: English (en) • español (es) • 日本語 (ja) • deutsch (de)
---