Previous
Next
The Battle of Avila Beach
[[File:|center|250px]]
Conflict
Date

December 8, 2026

Place
Outcome

Combatants
Commanders
Strength
Casualties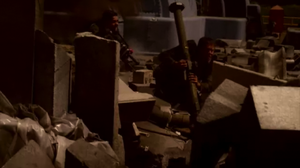 The Battle of Avila Beach
was a battle fought in the
War Against the Machines
on December 8,
2026
. In the battle, the
Resistance
regained control of the
Serrano Point Nuclear Power Plant
from Skynet. It was used as one of the main power sources for the Resistance and served as a base after the battle.
In 2027, the Resistance fighter Wells was sent to 2007 to stop Carl Greenway or rather his Terminator replacement from destroying the power plant. He was killed and Sarah Connor, Cameron, and Derek Reese continued his mission and succeeded.
Appearances