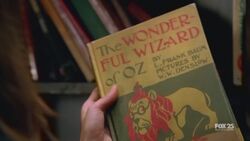 The Wonderful Wizard of Oz is a children's novel written by L. Frank Baum. It was John Connor's favorite book growing up as a child. Sarah Connor would often read the book to him in Spanish when he was young.
Notes
Sarah sometimes refers to Cameron Phillips as "Tin Miss". This is a reference to the Tin Man, a character in the book that is made of metal and has no heart.
The last name "Baum" used by John, Sarah, Cameron, and Derek Reese is drawn from the name of the book author, L. Frank Baum.
Cameron picked the book out for Marty Bedell's book report, stating that it was John's favorite. Marty later reads it aloud to Sarah, who takes over when the story reaches a scary moment.
Quotes
---
---
---
---
---
Appearances
Ad blocker interference detected!
Wikia is a free-to-use site that makes money from advertising. We have a modified experience for viewers using ad blockers

Wikia is not accessible if you've made further modifications. Remove the custom ad blocker rule(s) and the page will load as expected.