Ad blocker interference detected!
Wikia is a free-to-use site that makes money from advertising. We have a modified experience for viewers using ad blockers

Wikia is not accessible if you've made further modifications. Remove the custom ad blocker rule(s) and the page will load as expected.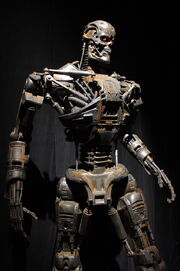 The first infiltrator Skynet sometimes is cover by rubber skin which is easily to spot by The Resistance
Endoskeleton
The Series 600 Terminator have improvements to its CPU and the redesign of the head, working jaw also support near human look.
Weakness
Series 600 terminator is have titanium endoskeleton the vulnerable to heat and gun fire
The motor functions are susceptible and can be momentarily impaired by a knife attack to the targeting system in the back of the neck and The series 600 is easily detectable due to its size and lack of covering over its mechanics.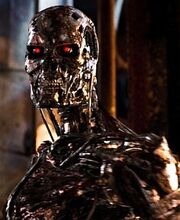 Skynet first cybernetic organism made it first successful infiltrator
Endoskeleton
The series 800 terminator endoskeleton is far more durable than Series 600 contains a Neural Net Processor CPU, or "learning computer", contained within the endoskeleton's skull and protected by inertial shock dampers. The CPU, developed by Cyberdyne Systems, is one of the most powerful microprocessors ever built. As part of its vast internal databases, the T-800 contains detailed files on human anatomy and physiology so as to make it a more efficient killer.
Weakness
Series 800 terminator is vulnerable to (most) plasma weapon.
Joint and spine can be easy to destroy T-800 unit