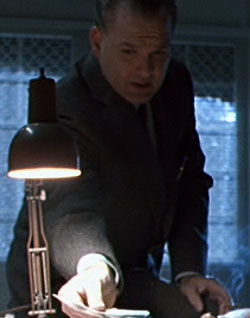 Detective Weatherby and his partner Detective Mossberg were following the case of a shooting at a mall in Reseda, which was caused by the T-800 protecting John Connor.
Fiction
Terminator 2: Judgment Day
This character article is a stub, missing information on the fictional appearances. You can help the Terminator Wiki by expanding it.
Behind the Scenes
Weatherby was portrayed by Richard Vidan.
Weatherby, like his partner Detective Mossberg, is named in honor of a firearms manufacturer.
In the script, the character's name is spelled Weathersby.
Appearances